Monona County is a GREAT place to live, work and play!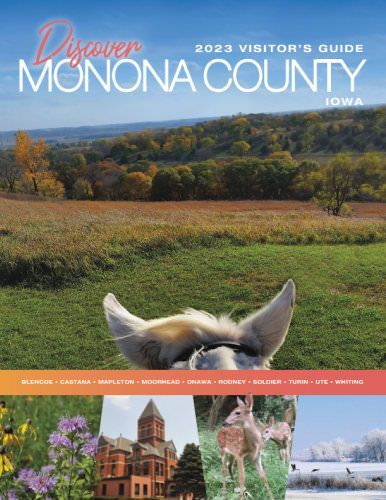 DISCOVER MONONA COUNTY IOWA VISITORS GUIDE
Monona County and our residents take pride in their communities and offer many opportunities to connect with others...
Agriculture is big business in Monona County... We want Monona County to be seen as "Open for Business" to prospective employers.
Monona County has an abundance of natural resources to welcome guests...
Whether a long-time resident, exploring a move to the area, or just visiting, Monona County welcomes you and wishes you a positive experience...and to our guests come again soon!!!
If you haven't been here lately, it's time to DISCOVER Monona County
Why Monona County?
Centrally located in Western Iowa

I-29 corridor (30 miles south of Sioux City, IA / 60 miles north of Omaha, NE
Sioux Gateway Airport (Sioux City) and Eppley Airfield (Omaha)

Progressive School Systems / Academics / Sports
Outstanding Health Care Services: hospital and clinics, pharmacies, assisted living facilities
Gateway to the Loess Hills, Preparation Canyon and Lewis & Clark State Parks, county parks and communinty recreation facilities
Unique dining and shopping opportunities